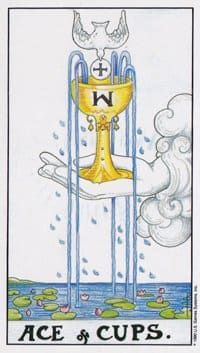 Perfection
Love
Joy
Prayers
Overflowing with good things
Clouded joy
False love
Lacking full perfection
My cup overflows with joy.
The Ace of Cups is without a doubt the best card you can pull in the deck. A hand comes from the sky to present you with a beautiful chalice overflowing with all of the things you could possibly ask for. The interpretation of this card is similar to the quote "my cup runneth over." Abundance, joy, love, and pleasure.  Spiritually speaking this card is letting you know that when you are filled with Spirit, it will in turn fill you by filling your cup of needs.
There is also a more spiritual meaning to this card if you choose to look deeper into its detail. At the top you notice a dove and the symbol of a cross on a wafer. The dove relates to the purity of spirit and the cross can signify a higher power or prayers. There are five streams of water coming down from the cup of consciousness into the lake below. They can represent the five living elements (earth, air, fire, water and spirit) or signify the subconscious mind blending into the universal consciousness.
Questions for You to Meditate On
Am I expressing gratitude for the gifts and blessings I have in my life?
What brings me happiness?
Are there things I need to work on in order to open myself to receiving joy?