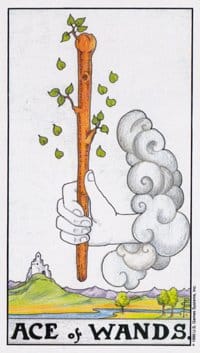 A beginning
Fresh start
New Opportunities
A New Idea
False starts
Canceled Plans
Stunted growth
I welcome new opportunities.
The Ace of Wands is a card of new beginnings. Fresh starts are now possible. This may also indicate someone presenting you with an olive branch after a period or issue of disagreement. Because this suit signifies enterprise, business and action. The Ace, two and three of cups go together well in this suit. If the Ace is present it can represent a new business idea and enterpriser in the initial stages. Nothing formal is moving yet, but the possibilities are being discussed. Should this card appear reversed in a reading, the forward movement is stunted or your may be experiencing some false starts in the situation.
Questions for You to Meditate On
How am I using my personal strengths to get ahead?
What needs to happen in order for me to get a fresh start?
Why am I having trouble moving forward?