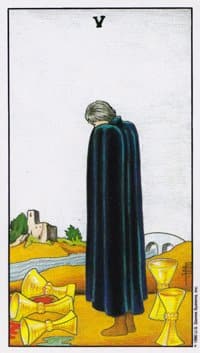 Disappointment
Sorrow
Unhappiness
Pity Party
Return of enjoyment
Hopeful expectations
Gaining Perspective
I keep everything in perspective.
The Five of Cups is a card that symbolizes disappointment, sorrow, loss and unhappiness. In the picture you can see this energy from the figure in the cloak. But if you take a closer look, this card is not all that it seems. While he is looking at the three chalices that are knocked down in front of him and mourning the loss of what they once held, he is failing to direct his attention behind him to the two that are still left standing. You will also see that there is a huge river in front of him that he must cross to get to his home, but there is a bridge behind him that will assist him on his journey. The moral of this card is that while things seem bleak or unbearable, there is still hope and something to celebrate. All that is necessary is for one to change their perspective.
Questions for You to Meditate On
How can you change your perspective to see a different version of the situation at hand?
Are you focusing on the negative or positive aspects of what's going on around you?
Where is the feeling of sadness, loss or disappointment actually originating from?