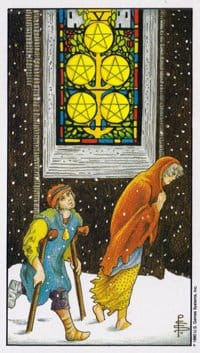 Dark night of the soul
Feeling alone
A growth period
Agendas not meshing
Working part time
Working at night
Things improving after a bad period of time
I am not afraid to start over
Five of Pentacles Overview
The Five of Pentacles is as rough as it looks. Two destitute individuals are out late at night in a snowstorm with nothing more than some light clothes on their backs. The energy of this card is one of trying times and loss. It may also indicate a growth period which can be frustrating and trying as well. Reversed this card brings hope and improvement in one's situation. After the desolation and loneliness of the upright meaning, the reversed energy is one of things slowly improving. It might not be a perfect situation, but you are on your way to better things. Working part time or things happening at night are also indicated.
Questions for You to Meditate On
Am I showing myself grace and compassion when I go through difficult times?
How do I handle adversity?
How can you restructure your life in a more beneficial way when it's necessary to rebuild?
How can I remain hopeful and positive about the future?