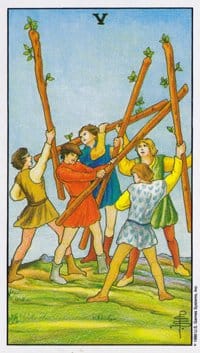 Serious quarrel
Conflict & Strife
Competition
Obstacles
Victory after surmounting obstacles
New opportunities are possible
I am not afraid of conflict.
The Five of Wands indicates a conflict of some sort. As you can see the card shows us five youth's battling it out with large and heavy staffs. This is a major quarrel. If you can picture yourself as one of the boys in the card, you can almost feel the energy this card dictates. If you see this card in a reading it is letting you know that a small step or action will not solve this conflict. Something major needs to occur in order to incite the change or victory you are looking for. 
Should this card appear reversed, it is letting you know that after the trials and tribulations you will come out on top of the situation. 
Questions for You to Meditate On
How do I deal with conflict?
Am I willing to fight for what's important to me?
How do I feel about taking big chances in life?