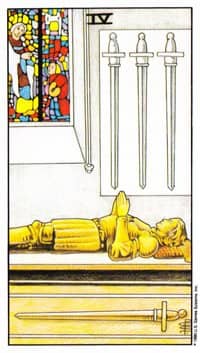 Relaxation
Healing
Soul searching
Jail
Laid off of work
I give myself permission to rest.
The Four of Swords is a card of relaxation and healing. A pause to recharge or try to make sense of what is going on around you.  A necessary break. Several other meanings can be applied here if you take a close look at this card. The Four of Swords imagery can also imply a jail stay, someone who is laid off of work, a hospital stay or even a person who is simply taking a nap! Reversed in a reading this card shows movement or renewed activity. Much like what sort of progress one might achieve after they took a moment to relax and recharge.
Questions for You to Meditate On
What's my favorite way to relax?
Why am I stepping back or being removed from a situation?
How can I get myself moving again after a period of inactivity?
Am I comfortable being alone?