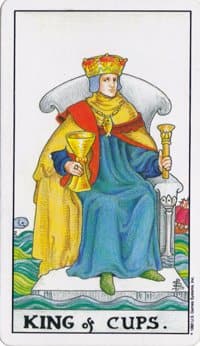 The King of Love
Negotiator
Kind & Considerate
Responsible
Intelligent
Crafty
Double dealing
The "Player"
Difficulty dealing with emotions
I am in control of my emotions.
The King of Cups can be viewed as the counterpart to the Queen. While she is the Queen of Love, this card represents the King of Love. When this card appears in a reading, it could symbolize the King of Love for someone, that a man is acting or fulfilling this space, or simply that someone is looking for these qualities in another individual. In a business reading it can represent a man who deals with others and conducts his affairs in a loving or sensitive manner. In general the man in this card is in control of his emotions and knows how to deal with them in a calm and compassionate manner. Should this card show up reversed in a reading, be careful. The energy will then be expressed in an underhanded and crafty manner. In love relationships, this represents a man who knows how to play women to get what he wants.
Questions for You to Meditate On
How can I communicate my feelings in a mature way?
Am treating my romantic partners with honesty and respect?
What motivation drives me in my romantic relationship?
Where am I getting involved in shady dealings?