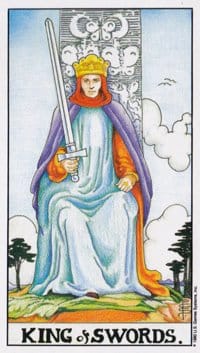 Strong Man
Stern
Great Advice
Father figure
Type A Personality
Cruel
Moody
Un-nurturing
Mean
Jerk
I'm not afraid to call the shots.
The King of Swords is knowledgeable and can sometimes signify a father figure, or an individual who is in charge. Like his counterpart the Queen, he is very stern and sharp in his delivery. However this comes from a place of wanting to give good advice and being unable to sugar coat things. Organized to a "T", the King gets everything done efficiently and with ease. Because of the precise nature of this cards energy, it may also indicate an individual who is in the military. Structure is very evident in this card. Should the King of Swords appear reversed, it is best to pack up and head out. Upside down, this energy ranges from someone who is a little moody or fussy, to someone who can be downright cruel to another human being. This could be a temporary mood or a consistent personality trait. Proceed with caution.
Questions for You to Meditate On
Where am I being overly bossy or controlling?
What role does structure play in my life?
Where am I being too much of a perfectionist?
What makes me fussy?