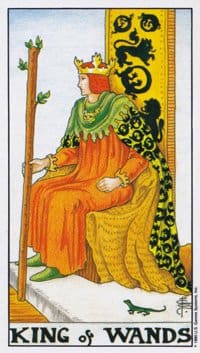 Loyal
Noble
Generous
A loving husband
Ill natured
Highly-principled to a fault
Ruthless
The King of Wands is all that you could ask for. He is loyal, kind, fair and in a romantic situation he can be a very loving husband or partner. Though while he is handsome, passionate and friendly, there are times his actions can be a little too hasty. If this card is not representative of an actual person, it can symbolize these characteristics.  When this card is reversed you will want to watch your back. Much like his counterpart the Queen of Wands, the King has a sharp and biting tough as well. He has zero tolerance for that which he does not see fit. And he is highly principled to a fault meaning that he may very well cut off his noes just to spite his face. Not a lot of flexibility here. A ruthless individual to say the very least.
Questions for You to Meditate On
What role does loyalty play in my life?
Am I leading with kindness?
Where am I getting in my own way?
When do I get disgruntled and fussy?