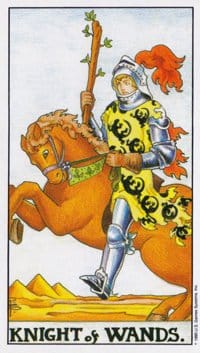 An attractive young man
Hasty / Fast Moving
A journey
Change of residence
I move quickly and with intention.
The Knight of Wands is a card that moves with speed. As you can see from the wind blowing through the feather of his helmet or the tattered tunic he wears, this guy is moving at a rapid forward pace. And he has been for quite some time. Expect events to happen quickly when this card appears. But just because the movement is fast, does not always necessarily mean it is well thought out. Consider all options if something comes at you in a rush. The energy of the Knight of Wands also indicates a possible change in residence or a journey of some sort. This is also likely to happen quickly or blow into your lap without much warning. If this card appears reversed the energy is a little unstable. Its back and forth as well as unsure of which direction it's going in. One minute it seems like a great idea. The next you're not so sure. Then its great again….Overall, this energy is had to depend on.
Questions for You to Meditate On
What do I do when I keep going back and forth on an issue and can't make up my mind?
How do I handle situations when things seem to be moving too fast?
Am I interested in moving or going somewhere?