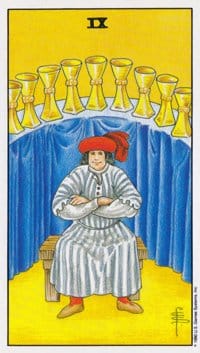 Good health
Well-being
Wishes being filled
Satisfaction 
Illness
Overindulgence
Wishes not being fulfilled
I know what makes me happy.
The Nine of Cups is all about wishes and fulfilling our desires. The man who sits in front of his cups is happy and proud of what he has accomplished. He is satisfied, successful and in the best of health. Ready and able to enjoy everything he has created. When the Nine of Cups appears upright in a reading it is a sign that all of your wishes are about to come true.
Questions for You to Meditate On
What things do I require in order to be happy?
How do I feel when I get what I wished for?
Where am I allowing myself to get distracted from bringing in more of what I want?
Are there any areas where I might be unnecessarily overindulging myself?