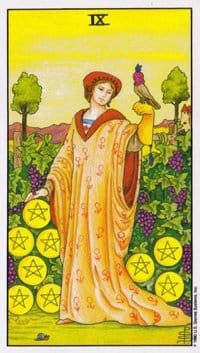 Relaxation
Being Alone
Love of home
Having a green thumb
Theft
Loss of friendship
Unhappy being alone
Nine of Pentacles Overview
The Nine of Pentacles shows us a woman who is at ease and enjoying her peaceful garden. Her home and garden bring her great joy and serenity. She does not mind being alone and is good at balancing her time and energy so that she does not overextend herself. Should this card come up reversed in a reading it can indicate that someone is having a hard time being alone or that they are allowing more to go out than come in. In addition the Nine of Pentacles reversed can indicate a loss of some kind that is either material or emotional.
Questions for You to Meditate On
What are the benefits of spending time at home?
Do I enjoy my own company?
Am I in danger of losing something that's important to me?
How can I be careful about saving my resources and not overextending myself?