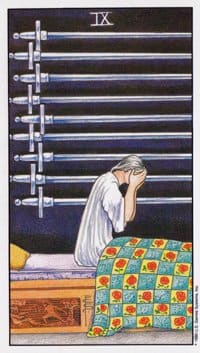 Sleepless nights
Loss
Over-thinking
Time brings healing
Patience
I give myself time and space to heal without judgment.
The Nine of Swords is a card that will keep you up at night. It indicates over-thinking, worry or being stuck in one's head. These thoughts will most often be at their worst at night as we are trying to fall asleep, causing us to possible loose some of our precious zzz's. A good analogy for the energy of this card is a hamster who is up in his wheel running all night long. When the Nine of Swords appears reversed in a reading, it symbolizes that patience is needed. And sometimes a little time is all we need to heal our worried mind.
Questions for You to Meditate On
How can I give myself time and space to heal?
What is keeping me up at night?
How can I learn to quiet my mind?