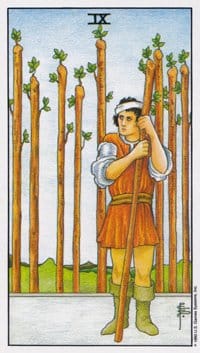 Pause in a struggle
Preparing for conflict
Resting to regain your strength
Obstacles to be overcome
Stressed out
Difficulty adapting
I give myself time to recharge.
The Nine of Wands shows us a young man who is taking a pause. He has been in a fight or struggle and is taking a step back to recharge before the next big push or battle. He is clearly injured from what has occurred. However he is gathering his strength in reserve should he need to fight once more. Should the card appear in a reading reversed, it indicates that there is a lot of stress present. One may have problems adjusting to their current situation.
Questions for You to Meditate On
Do I practice good self-care and take breaks when I need them?
How do I handled being majorly stressed out?
What is my plan of attack when I'm faced with large obstacles?