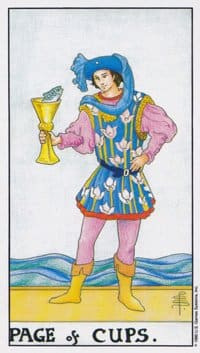 Messages
News
A new proposal
Messages of love
Deception
Unpleasant news
Lack of motivation
I express myself creatively.
The Page of Cups is a card of news or messages. The Page is dressed in an ornate blue tunic decorated with flowers and a hat with a flowing scarf attached. Behind him flows a body of water is symbolic of emotions. In this card the Page of Cups appears to offer you messages. And because the cups are a suit of love and emotions, the messages is likely to pertain to these areas. If we focus on the cup we see a fish popping up out of it. This shows us that surprises are around every corner and sometimes in the most unlikely of places.
Questions for You to Meditate On
Is there a particular message you have been waiting for?
How do you respond when someone is flirting with you?
What do you do to get yourself motivated?