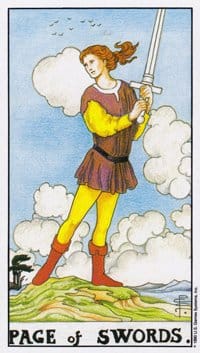 Friendly
Serviceable
Spying
Impostor
Will be exposed
Using kindness as a weakness
The Page of Swords is a diplomatic sort of person. They remain friendly and serviceable not matter what the situation or how they feel personally. The energy here is also very top-surface. You are unable to see much deeper than this. Additionally the Page of Swords can indicate spying of some sort. The spectrum can range from checking someone's on-line accounts to hiring a private investigator to do some digging. When this card is reversed in a reading be careful that you are not being taken advantage of. Some sort of hidden details may likely be exposed.
Questions for You to Meditate On
How can you be of service?
Are you or someone you know trying to get information they're not supposed to have?
Are you taking advantage of somebody's kindness?