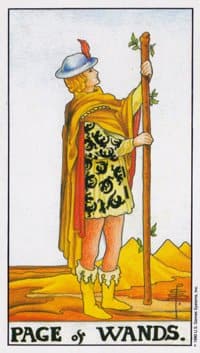 A message
Good testimonials
Arrival of good things
Meeting someone new
Cruel
Unstable
Heartbreak
Dead Air / Silence
I am ready to receive good news.
The Page of Wands, like the other page cards in the deck, is a bringer of messages. He brings good news, good testimony and symbolizes the arrival of good things to come. If this card appears it could indicate that someone is saying nice things about you or that you are going to be receiving a particular message that you have been waiting for. If this card appears reversed, don't count on any positive messages coming your way. It can also indicate an individual who is unkind or someone that may break your heart.
Questions for You to Meditate On
What news have I been waiting for?
Who do I have good things to say about right now?
How do I feel when I'm waiting for a message and I'm not getting a response?