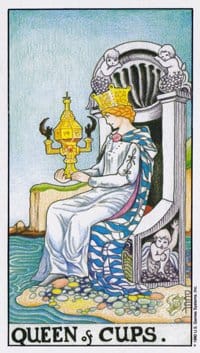 The Queen of Love
Head of the household
Success
Happiness
Pleasure
Dishonest
Immoral
Intelligent & Unreliable
Untrustworthy
I am sensitive to my needs.
The Queen of Cups is indeed a powerful card. She is seen as being the Queen of Love. If this card appears in a reading, it could symbolize that the energy is a good match. She is the head of the household and runs everything with love, care and an impressive intuition. She is beautiful, fair and very much a dreamer. The water around her, and that of this suit, represent emotional well being. Remember to be kind and sensitive to your needs as well as others. If this card appears reversed, this is probably not the woman for you.
Questions for You to Meditate On
What sort of things am I doing to make myself happy?
Where in my life do I need to take charge to make sure everything runs smoothly?
How am I showing up in relationships?