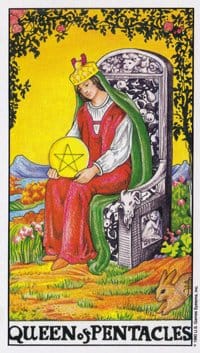 Rich but charitable
Generous
Financially Stable
On top of the game
Earth Mother
Duties neglected
Flaky & undependable
Mistrusting
Not paying bills
I nurture myself and others.
Queen of Pentacles Overview
The Queen of Pentacles is the card of the Earth Mother. She is warm and giving. Nurturing to those around her. This card is reminiscent of the experience in your younger years with a friends mother who took everyone under her wing. She was always there to listen, give advice or even an encouraging hug when needed. Her energy is that of someone who is rich but charitable with her gifts. She is responsible and on top of her game. When the Queen of Pentacles is reversed she can be flighty and irresponsible with her duties. Not someone you can rely on.
Questions for You to Meditate On
How can I help nurture others?
Where can I be more on top of my responsibilities?
How is inconsistency creating problems in my life?
What are some ways I can learn to keep myself grounded throughout the day?