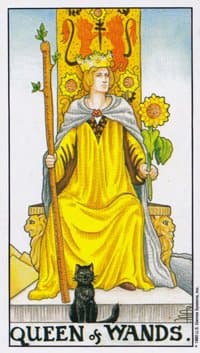 Faithful & Honest
A loving wife
Practical
Kindness & Generosity
Unfaithful
Cruel tongue
Possessive
The Queen of Wands is a loving wife, faithful and honest in her duties and commitments. She is able to easily attract what she wants. In business she is practical and her judgment is sound. Should this card represent a person in a reading, her energy will be full of sunshine. You feel warm and secure around her. She is funny, kind, generous and a pleasure to be around. Her energy is often contagious. If the card does not represent an actual person in your reading, it is representative of the energetic qualities of the card. If this card is in the reversed position, beware! Possessive behavior can rear its ugly head. And verbally the words you hear can cut you like a knife. Can also represent someone who is unfaithful or dishonest.
Questions for You to Meditate On
How can I manifest what I want?
What are things I look at before making a decision?
Where can I be kind and giving towards others?