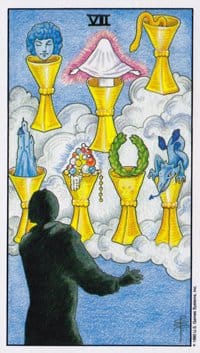 Scattered
Illusions
Deception
Too many choices
Resolutions
Applying new methods
Follow up
I remain focused on the task at hand.
The Seven of Cups is a card of fantasy, illusions or choices. In this card you can see the figure of a man who is faced with seven cups, each containing a different element, or choice. What they symbolize is of course up to your individual interpretation of the images. But with so many choices, sometimes it can be difficult to see which one you should pick. As with all things in life, some choices are clearly better than others. You must simply look at each one carefully and analyze it to find the correct one.
The energy of the this card can also be one of illusion or trickery. Not being able to see the cups for all of the distractions coming out of them. It can be of ones dreams or imagination, as opposed to the reality of the situation. Consider these alternative meanings as well when the Seven of Cups appears.
Questions for You to Meditate On
How can I refocus my energy to be more efficient?
Where am I letting myself get distracted?
What is the most important thing for me to be focusing on right now?
How can I try something new that might give me a different result?