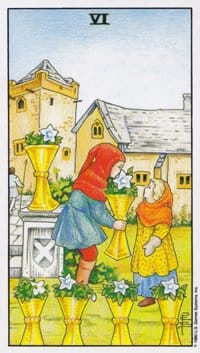 Happiness (from the past)
Enjoyment (from the past)
New friendships
Gifts being shared
Living too much in the past
Holding on to outdated thought processes
Worthless associates
I share my gifts freely with others.
The Six of Cups imagery shows us that it is a happy, light-hearted card. Here we see two young children  who are sharing with one another. There is kindness, happiness and an overall feeling of gentleness as they gift flowers to one another. This card also brings with it a feeling of nostalgia for times past. This can stem from childhood emotions or in later years as well. Simply the energy of a time and place you would like to go back to. Moments when you were happy, at peace and loving life. Sometimes the Six of Cups can be a reminder to be more playful, Other times it is a good reminder of what we look back and miss so that we can reincorporate it once more.
Questions for You to Meditate On
What situations, people or places do I feel nostalgia for?
Are there people in my life that are holding me back or making my life more stressful and complicated?
How can I share what I have with others?
Where can I make room for new friendships or connections in my life?