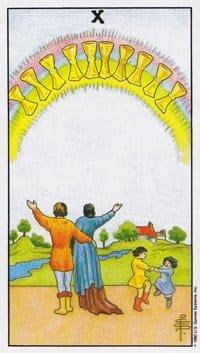 Contentment
Lasting happiness
Celebration/Wedding
Family Life
I honor and celebrate my family.
The Ten of Cups is a card of happiness and celebration. The celebration can be family related as we see a husband and wife with two children depicted in front of their home. Because of the familial nature in these images, it often represents a wedding, marriage or some other related celebration. The energy of the Ten of Cups can also signify one of family, togetherness, stability and the comfort of home. If you look above everyone the cups in this card have been placed above everyone in a beautiful and symbolic rainbow. This alludes to abundance as well as gifts from above.
Questions for You to Meditate On
How can you strengthen your connection with your family?
What do you need to celebrate right now?
When you feel like things have turned against you, how do you move forward?
What do you need to keep you happy in the long term?