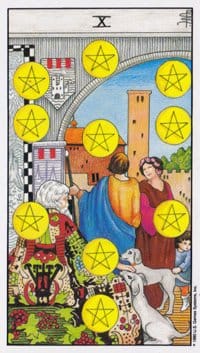 Prosperity
Real estate
Family & Business
Soul Mate or Kindred Spirit
Family misfortune
Poor risk
Failure to pay rent
Problems
I am creating stability for the future.
Ten of Pentacles Overview
The Ten of Pentacles is a family and business card. In the forefront we can see a wealth of coins while in the background you can see several generations of a family together. The energy of this card may be one or the other, or both. In addition this card may indicate the energy of a real estate transaction or a soul mate connection.  When the Ten of Pentacles is reversed beware of an offer that comes with some unforeseen difficulties. It can show that caution should be exerted before taking a major risk.
Questions for You to Meditate On
How can I set myself and my family up for future financial success?
What sort of projects should I be investing in?
Have I properly checked out a situation for potential problems before investing my money?