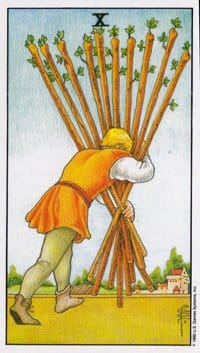 Burden
Pressure
Holding it all together
Taking on too much
Self-defeat
Burdens released
Doing things you know will cause you to fail
I am mindful about how much I take on.
The Ten of Wands says it all in its depiction of a man desperately trying to hold it all together. He has ten heavy and unruly staffs in his hands. He has them arranged carefully so that he can carry them all in one trip. Having or carrying a burden is the primary energy associated with this card. Struggling on your own and feeling weighed down by the situation you are in. Should this card come up reversed in a reading all of one's burdens have been released. The weight is gone and the problems are someone else's to worry about.
Questions for You to Meditate On
How can I set better boundaries for myself?
Am I saying yes when I should be saying no?
Where can I delegate some of my responsibilities and chores?
Do I ask for help when I need it?