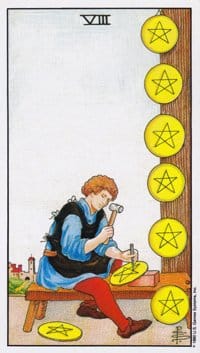 Learning a trade
An apprentice
Working at night
Working with computers
Unethical business practices
Making money under the table
Shady practices
I am not afraid to learn new things.
Eight of Pentacles

Overview
The Eight of Pentacles is about learning a trade. Perhaps as an apprentice or even an intern of some sort. Starting at the bottom and working your way up. In this card a young man patiently and diligently crafts designs on the pentacles, gaining experience and skill as he plods along. If the Eight of Pentacles appears in a reading reversed, something is not on the up and up. Business practices could be pushing the boundaries of ethics. Things going on in the dark or under the table.
Questions for You to Meditate On
Am I open to learning new things?
How do I feel about starting over?
What role do ethics and morals play in my life?