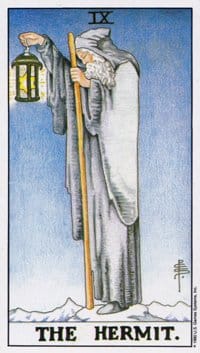 Wisdom from above
Moving in secrecy
Need for solitude
Introspection
Soul Searching
Immaturity
Peter Pan Syndrome
State of Denial
Being Unrealistic
I find wisdom through solitude.
The Hermit walks alone in the darkness, the illuminated "Lamp of Truth" in his hand. He is alone on his quest for answers and information. Seeking quietly without bringing others into his journey. He stands upon mountains of growth and enlightenment. This card is a reminder that all of the answers we seek are already inside of us. It is the journey of how we tap into this though our universal connection in order to release what we need, that this card represents. Should this card appear reversed, it shows us our unwillingness to see the situation as it truly appears. Not as we would like it or perceive it to be.  It is also the opposite of self-awareness and the ability to responsibility.
Questions for You to Meditate On
When do I need to withdraw from the world?
What do I need to be more realistic about? 
How can I tap into source energy to receive the wisdom I need?