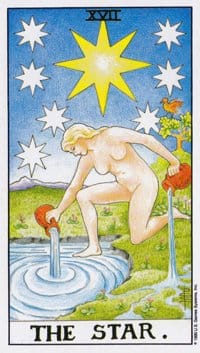 Inspiration
Hope
Signs
Faith
Doubt
Lack of perception
End of an un-fulfilling situation
The Star card is one of hope and renewal. It revives a faith in ourselves and the Universe that may have previously been lost. It gives us signs that whatever is happening around us, we are indeed in the correct place. In this scene there is a woman who has one foot on land and one on the water showing the balance between her practical senses and her intuition. The jug pouring water out onto the earth splits into a stream of 5 different sections and represents the 5 senses. In the background there is a big, bright shining start surrounded by 7 smaller ones. The stars not only represent signs arriving for someone, but they are symbolize each of the chakras. When reversed it shows us we need some inspiration in order to regain our hope and faith. We are doubting ourselves and are unsure of how to proceed at this time. This could be due to our emotions, a growth period or perhaps a change in karmic direction.
Questions for You to Meditate On
Where do I need to learn to have faith in the Universe?
How can I use the signs I'm receiving to guide me?
What do I need to see in order to become inspired?