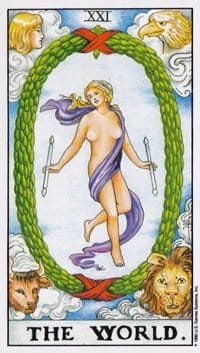 Completion
Reward
Success
Triumph
Incomplete
Loss of direction
Failure to follow through
I am complete and whole just as I am.
The World Card symbolizes completion.  The achievement of goals and dreams. It is the last card in the Major Arcana and therefore symbolizes the completion of the Fools journey through consciousness. The wreath around the woman in the card shows us the victory and success she has attained. Red ribbons on either end are looped in the infinity symbol that lets us know the immeasurable value we get from working on ourselves and helping others to do the same. The batons in her hand let us know that she is balanced in her thoughts and spirituality because she has put in the necessary inner work. Note that on the four corners of this card you will see the same archetypes as in the Wheel of Fortune card. They not only represent each of the four elements, but they represent each of the four suits of cards in the tarot deck. Everything here is easily within her grasp. Should this card appear reversed in a reading there is still some completion necessary in order to feel whole and balanced.
Questions for You to Meditate On
What do I need to have in my life in order to feel truly complete?
How do I feel about success?
When and where is follow through important?
How do I move on once I've achieved the goals I've set for myself?