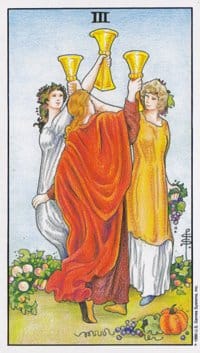 Success
Party/Social time
Pleasure
Spending time with women
Girls Night Out
Overindulgence
Pleasure turns to pain
Success turns to ashes
I celebrate life with my friends.
The Three of Cups is a card of celebration, parties, and social events. This could be anything from a regular night out to a special occasion of sorts. All the joy, excitement, fund and togetherness you would feel from such an outing is also translated into this card.
The three women you see here can symbolize time with your girlfriends or feminine energy.  A strong bond or a sisterhood. As you can see the women are coming together to share time and celebrate life. Overall this card is one of prosperity and good times.
Questions for You to Meditate On
How do you like to have fun?
What are your favorite ways to socialize? 
Which friendships are important to you and how do you support each other?
How do you like to celebrate your successes?