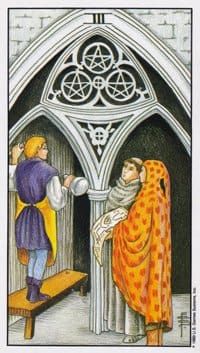 The Master Craftsman
Skilled artist
Skill & Growth
Progressing in your job
Lack of skill
Preoccupation with gain
I am the best at what I do.
Three of Pentacles Overview
The Three of Pentacles indicates someone with considerable skill, and very likely on top of their game. This is a card of the Master Craftsman. You can seen in the card the sculptor is explaining his project to his clients with the confidence and ease that can only come from great knowledge and experience. This card also shows skill and progress in one's profession or passion. Should the Three of Pentacles appear reversed, there is more work to do in order to attain the ability or talent you need. It may also indicate someone who is more worried about what they can get out of something, than what kind of time and effort needs to be put in to get to that point.
Questions for You to Meditate On
What are my special gifts and talents?
How can I use my expertise more effectively?
What skills can I add to my toolbox to level up?
How do I feel about investing in myself?