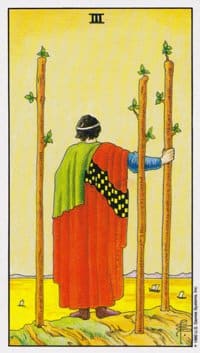 Partnership
New enterprise
Launching long term plans
A successful business person
Disappointment
Unhappy with one's work
Beware of help being offered
Not sure how to proceed
I know how to succeed long term.
The Three of Wands shows us a budding enterprise that is now in the mature stages of business. This includes adding partners or even additional businesses to expand on what has already been built. While the Ace and Two of Wands indicate the initial undertaking, the Three of Wands symbolizes a solid business that functions at a high level. 
Should this card show up reversed in a reading, there is some sort of dysfunction issue with getting to the highest level of enterprise. There is of course disappointment and frustration that comes with this stalemate and one should be cautious with help that is offered. Instead of looking at this card as a setback or a barrier, remember that Spirit sometimes give us a pause in order to correct any necessary problems. Take your time to assess and fix anything that isn't working. Now is the time to make a much needed course correction. 
Questions for You to Meditate On
How will working with a team benefit me at this time?
What needs to happen in order for me to take things to the next level?
Why am I feeling disappointed or unfulfilled?