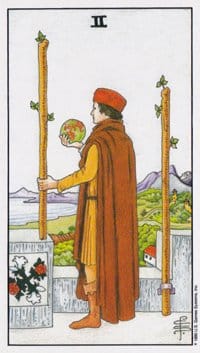 Embarking on an enterprise
Kindness
Generosity
Applying new methods
Restlessness
Losing your way
Obstacles & delays
I am excited about creating my future.
The Two of Wands shows a man looking forward to the future, ready to embark on a new enterprise or opportunity. This card may also indicate trying something new. Like the Ace of Wands, this card is the second stage in the progression of building a new venture or business. While the Ace shows us the idea forming and taking shape, the Two of Wands indicates that the ideas have now been put into action. The enterprise is not functioning yet at a high level, but it is manifesting itself into reality and is a visible creation. Should this card appear reversed, the forward motion is likely to stall out. Obstacles and delays can line your path.
Questions for You to Meditate On
How can I best move forward on the second stage of my journey?
What dreams or visions do I have for my future?
What do I need to do when I find myself faced with problems or setbacks?